economic development
data platform
Unlock economic potential with CityViz, the go-to data portal crafted for economic development professionals.
Support the economic growth of your community by providing investors, entrepreneurs, and decision makers with comprehensive, reliable, and freshly updated data in an easily accessible format.
With a set of unique features, CityViz makes it easy to reach your data, present it, and distribute it while always using the most recent data available.
Investment and talent attraction
 Community profile
 Market research and strategic planning
 Support grant applications with data
 Generate custom PDF and PowerPoint presentations for the Council, investors, and more.
Communities and organizations across Canada have chosen Cityviz
to take their economic growth to the next level.
CityViz solves main challenges in using data to support economic development
All Data in One Place
CityViz aggregates relevant data from various sources (StatCan, CMHC, and much more) into one single place.
Always Up to Date
All data is updated on the day of release. Users can rest assured they always use the most recent data available.
Custom Data and Dashboards
Client organizations can upload their own data and customize the dashboards and reports.
Report Downloads
Build your own PDF reports and PowerPoint presentations with just a couple of clicks.
Branded
Each deployed Cityviz instance is aligned with the client organization brand (logo, fonts, colours and contact details).
Modular
Modular structure allows clients to pick specific functions only that suit their needs, or choose a full suite.
We set it all up for you in just one day!
Data
We configure the settings and press start button to fetch the data and keep it up to date.
Branding
We customize the appearance to align it with your branding guidelines. Including the chart and map colours!
Launch
You're all set to showcase your location and boost your economic growth.
How CityViz helped organizations overcome challenges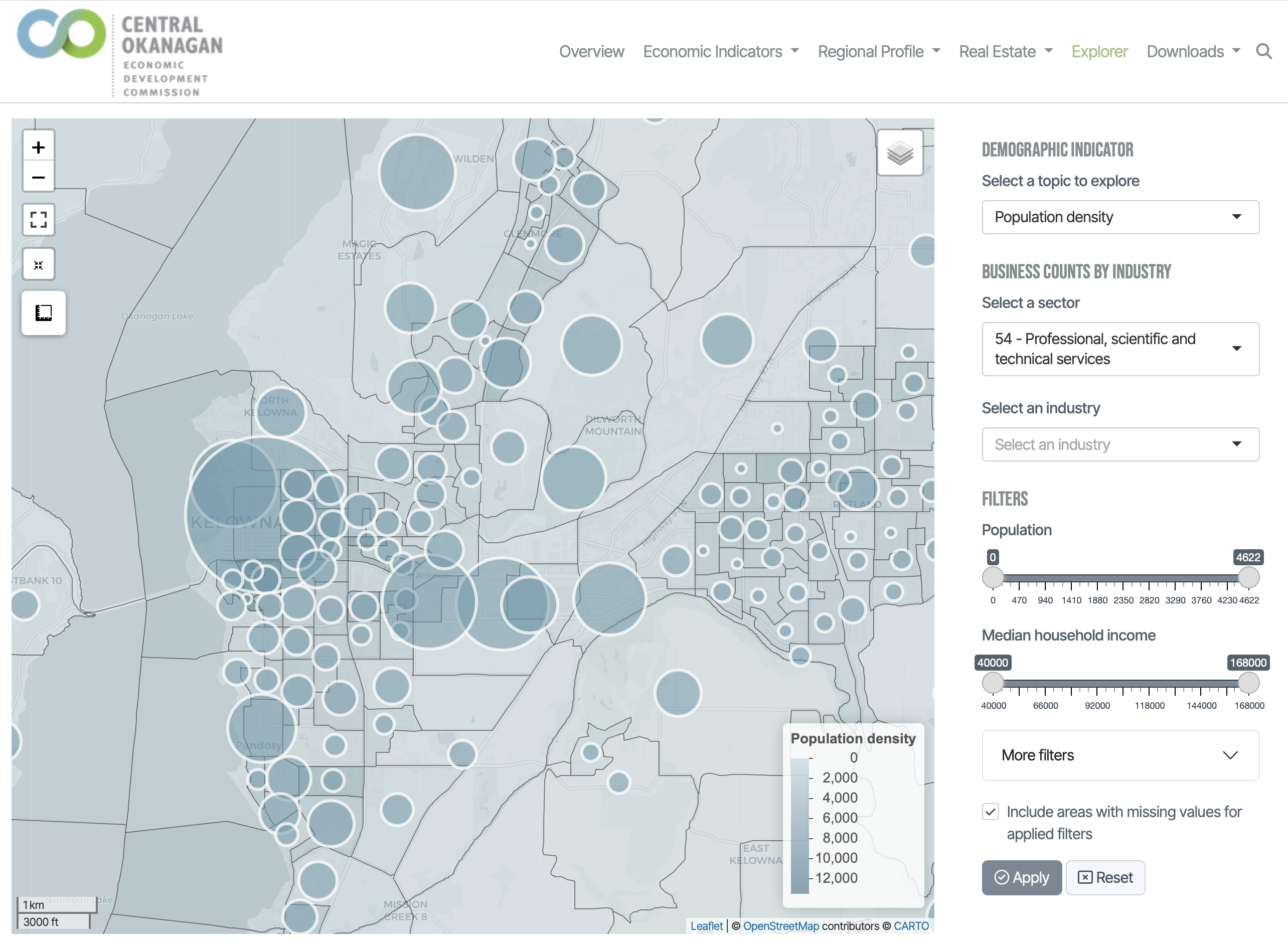 Support local economic development
Central Okanagan Economic Development Commission (COEDC) implemented CityViz data portal to
Support evidence-based decision making.
Market the Central Okanagan for business investment
Support local entrepreneurs in their market research
Enhance sophistication and competitiveness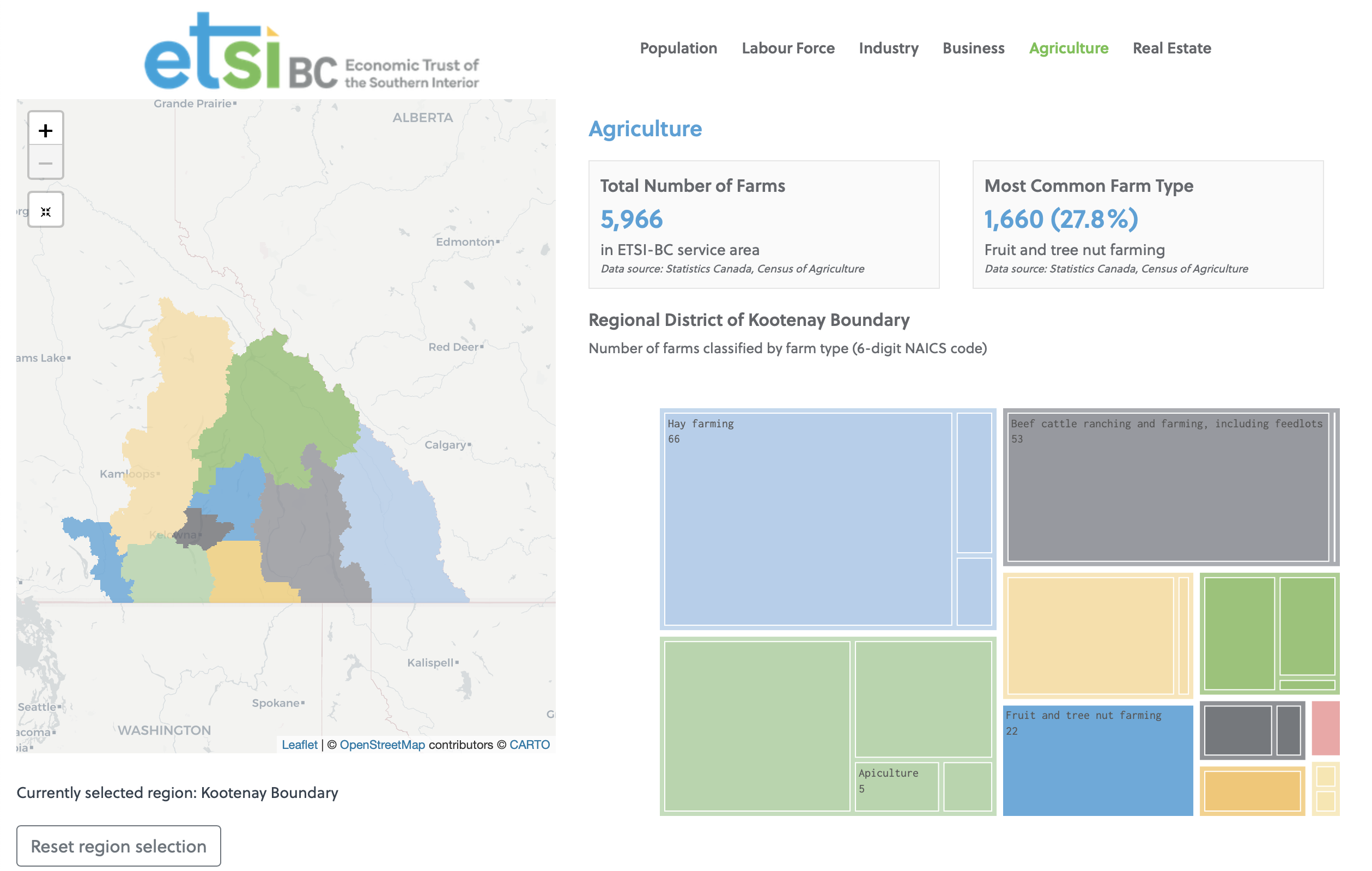 Support Regional economic development
Economic Trust of the Southern Interior  (COEDC) implemented CityViz data portal to support economic development activities for municipalities and regional districts in its service area of the BC's Southern Interior. CityViz enabled ETSI-BC to:
Validate investments in communities in the region.
Support funding applications with data.
Provide relevant data to attract investors and developers.
Support private sector with location advantages.
How communities use CityViz for economic development
Investment and Talent Attraction
Communitites use CityViz as investment attraction tool to showcase their location advantages, demographics, workforce profiles, most important economic indicators to potential investors, developers and site selectors.
Market Research Strategic Planning
Explorer GIS module overlays demographic and industry data along with location markers of existing businesses and establishments, enabling market research, strategic planning, site selection, and much more.
Grant Applications Support
CityViz data visualizations, data tables, and maps can directly be embedded into grant applications to provide clear, tangible evidence of needor impact and supporting claims and arguments made in the text.
PDF and PowerPoint Presentations
Report Builder module enables users to select the data specific to their need and generate PDF reports and PowerPoint presentations with data visualizations in just a few clicks, saving days of work. Typically used for Council presentations and investor handouts.
True dedication to providing the best product and service
The Most Flexible Product
CityViz offers unparalleled flexibility by enabling client organizations to select the modules they need, customize features and add their own data. It is also possible to create completely custom pages for more complex custom data.
Outstanding Service
Our top priority is to deliver the outstanding service and be there for you whenever you need help to get the best value possible from our products.
The Most Comprehensive Data
We constantly add new data to Cityviz from relevant data sources and keep it up to date so users always use the most recent data avaialble.
The value our partners find in Cityviz
Cityviz offers a data platform that is a must have for investment attraction! Cityviz team does an excellent job of compiling and presenting statistical data from a variety of sources. The value of having statistical data specific to our community enhances our economic development website www.investgrandforks.com by providing users with reliable, accurate information and the ability to create reports specific to their needs. The online data portal is not only beneficial in responding to  investment inquiries, but also helps support information provided throughout our website. I highly recommend Cityviz as they are very professional, knowledgeable and provide helpful support.
The Cityviz data portal has provided our team with the tools and abilities to access data in one place. Not only does this streamline our processes in terms of providing information to clients, but the portal is publicly available providing our community, decision makers, and business executives with information at their fingertips they can use to make informed decisions. The Cityviz team is always working on new innovative ways to display the data, source new data sets, and works with our team to customize the dashboard to meet organizational strategic priorities.
Working with CityViz has been nothing short of amazing.  They are enjoyable to work with, they listen to what you need and want, and they put it all together with ease and accuracy.  The data platforms they have developed for the communities I have been involved with over the past couple of years offers the opportunity for better decision making which leads to better results from an economic, planning and development perspective.